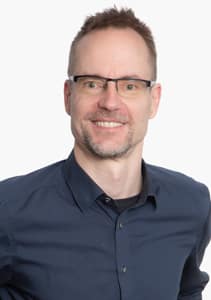 "After spending time abroad several times during my education, I now live with my family in the Lobau region of Vienna.
Besides my work, my family and friendships, travelling and nature, sports (especially running) and dealing with history and social issues are very important to me."
A registered psychotherapist (Ministry of Health BMSGPK) and has been working successfully for twenty years

Trained in systemic individual, couple and family therapy (ÖAS Vienna)

A supervisor, coach and organizational consultant (ÖAGG, ÖVS, ÖBVP, ÖAS)

A child and adolescent psychotherapist (Ministry of Health BMSGPK, VPA)

Lecturer for individual self-awareness in psychotherapy training (Sigmund Freud Private University, Systemic Family Therapy)

Communication trainer for social skills such as conflict management or team building

Seminar leader for professional trainings such as systemic working with children, adolescents and their reference systems for professionals in out-of-home care institutions

Involved in publications and editorial work

Collaborator on research projects

Speaker at congresses.
Dr. Herbert Gröger is specialized in...
Problems in private and professional relationships

Family dynamics, e.g. between adults and their parents or between siblings

Reconciliation of work and family life

Work-life balance, burnout prevention

Reorientation after major changes or life crises

Intercultural communication and communication difficulties of all kinds

Conflict management

Supervision and coaching

Moderation technique (e.g. facilitation of team retreats)

Therapy with young adults, adolescents, and children
The working languages are...
German

English

Language skills also in Spanish and French.
Honorary member of the Institute for Systemic Therapy Vienna (2023)
Leopold-Kunschak-Prize for social science research (2001) for the dissertation
Research awards of the Chamber of Labor for excellent dissertations (2000) and diploma theses (1997).
Since 2005 psychotherapist (Systemic Family Therapy)
2003-2005 independent psychotherapeutic activity as psychotherapist in training under supervision.
Practice room: since 2023 Practice Kleine Stadtgutgasse (1020 Vienna), 2005-2022 Institute for Systemic Therapy (1030 Vienna), 2003-2005 Practice Safe Place (1010 Vienna)
Since 2011 Lecturer for individual self-awareness in psychotherapy training (Sigmund Freud Private University, Systemic Family Therapy)
Since 1996 communication trainer, coach and supervisor for employees, managers and teams in organizations, EPUs, NGOs, NPOs, associations and adult education institutions; in consulting, teaching, administrative and medical professions
Since 2005 seminar leader and congress lecturer for psychotherapeutic, socio-pedagogical and social work education and training (ÖAS, IST, VPA, SOS-Kinderdorf, Caritas, Rainbows,…)
Lecturer for Social Skills, Conflict Management, Team Development, Ethics, Leadership, Organizational Development and Project Management at the FH Technikum Wien, Supervisor of Bachelor and Master Theses and Examiner for Diploma, Baccalaureate and Master Exams (2001-2020)
Coordinator of the Department of Social Competence and Management Methods at the FH Technikum Wien (2005-2007)
Lecturer for conflict management, University of Applied Sciences FH Wien der WKW (2004-2006)
Co-leader of a child psychotherapy group, Safe Place Practice Vienna (2003-2006)
Psychotherapy with psychiatric patients, Klinik Favoriten: Ward P4 and outpatient clinic (2003-2004)
Lecturer in psychology and social sciences, Wilhelminenspital School of Nursing (2000-2005)
Collaboration in social science studies and research projects (1995-2000).
Education, advanced training
Psychotherapist, Systemic Family Therapy (ÖAS, graduation 2005)
Supervision, coaching and organizational consulting (ÖAGG, ÖVS, ÖBVP, ÖAS, supervising since 1996, graduation ÖVS 2013)
Couples therapy (John and Julie Gottman, Level 1 2013, Level 2 2015)
Child and adolescent psychotherapy (VPA, graduation 2010)
Counselor for parents regarding children's needs in divorce (BMJ, §95 AußStrG, 2013)
Collaborative Law Coach for adults and children (CL-Group Vienna, 2008)
Participant of the Webster University Study Tour to Stanford and Berkeley Universities (2006)
Group dynamics (participation in training groups and organizational laboratories, ÖGGO, 1990s and 2000s).
Studies and school education
Doctorate (Dr. phil.) (2000), Masters (Mag. phil.) (1997), University of Vienna: Graduation in interdisciplinary social science studies (political science, sociology, philosophy, history) in Vienna, Granada/Spain and Bogotá/Colombia
ERASMUS-scholarship and scholarship of the Ministry of Science for study visits in Spain and Colombia
School visit in Vienna and New York (Ronald S. Lauder Scholarship 1988).